Free class of Intelligent Movement® + Healing your back (a 5-session series)
With Ernesto Cortés
Intelligent Movement®  is a method that works with small actions and directed attention. We use movement as a vehicle to develop awareness of how we do the thing we do, how we react emotionally, how our thoughts are activated. And in the process, we find relaxation, well-being, improved posture, and peace for the body and the mind. I want to share with you the recording of a free class in audio and a short video class to practice these movements anytime you want.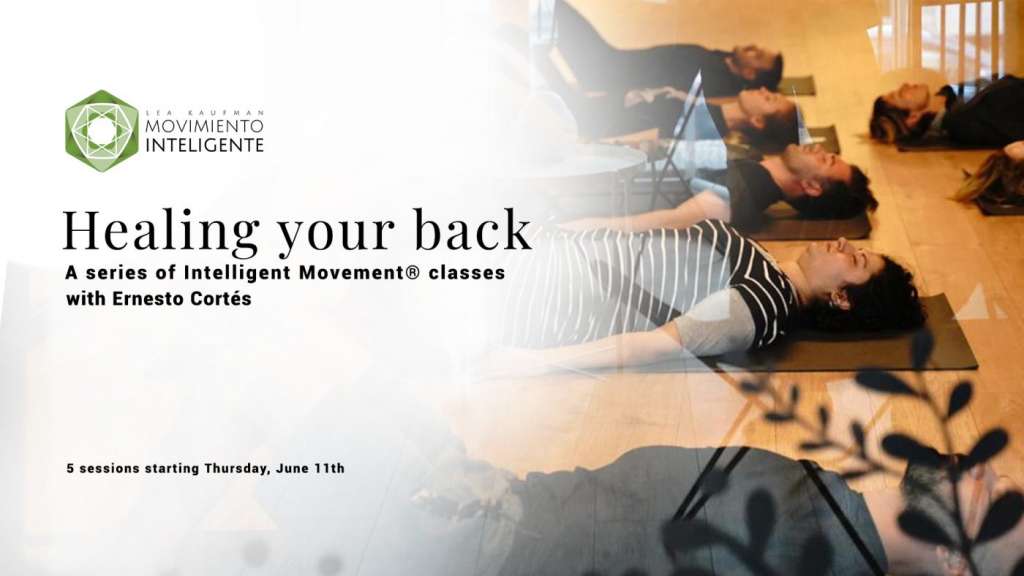 Please remember to follow these guidelines:
Do small movements, don't go to the limit of your possibilities.
Stay within the range of your comfort. If something hurts, stop the movement and just imagine it.
Keep it slow. To really see what you are doing, you need to reduce the speed.
The number of repetitions is not important. What matter is the quality of your attention.
Enjoy!
I want to offer you also a short video class that you can do sitting on a chair. It will help you practice the movements that we did on the floor, but in a shorter time. The shoulders and the neck are parts of the body where we carry a lot of tensions, so this is a simple and effective strategy to relax them and to relieve the stress.
Join the 5-session program!
Starting this Thursday, June 11th, I will offer a series of 5 clases dedicated to the health of the spine. Back pain has become one of the main health issues of modern life, and with the onset of covid-19 and all the lifestyle changes that people around the world have been forced to adopt, this affliction has become even more widespread. This is the program of the series:
Session 1: Flexible spine from head to tail bone (June 11th, Thu)
Session 2: Relaxing the neck and the upper back (June 14th, Sun)
Session 3: Connecting shoulders, spine and pelvis (June 18th, Thu)
Session 4: Mobile pelvis, free lower back (June 21th, Sun)
Session 5: Making peace with chairs (June 25th, Thu)
This program will include live online classes, as well as pre-recorded videos, the audios of all the live sessions and email follow-up. Classes will be on Sundays and Thursdays, at 17:00 Istanbul time (15:00 London, 10:00 New York), via Zoom.  
The cost of participation is 300₺ in Turkey (US: $55, UK: £45) for the 5-session series. You can also attend a single class for 80₺ ($15, £12). Please note that only participants in the full series will have access to the private website with the recordings, the videos and other materials.

Video classes
This 5-session program will also include short video classes so that you can transfer the movements that you do on the floor other positions in daily life. Here's an example of what these short classes look like:
Contact and reservations
You can register using the form on this page. I will get back to you shortly after you register.
If you want more information or if you have any question, please send me a message via social media: Facebook. Instagram. 
About the teacher
Ernesto Cortés (México, 1979)
Ernesto Cortés is a Mexican musician and a certified Intelligent Movement® practitioner. In his classes, he aims to bring together elements of body-mind awareness, artistic self-discovery and spiritual integration. He is a certified leader of the Dances of Universal Peace movement and has led circles of dances and given workshops of Intelligent Movement® in the USA, Colombia, Ecuador, France, England, Germany, Iran and Turkey. Ernesto has also worked as a translator of Feldenkrais, Mindfulness and other body-mind techniques as well as spiritual practices for more than 12 years in different countries of the American continent. He is the first teacher of Intelligent Movement® in Turkey.
Discover
Find new ways to relate to your body using conscious movement as a vehicle, to harmonize your actions with your thoughts and your emotions.
Connect
Learn how to move your body as a whole, not as isolated parts, using your skeleton as an efficient generator of fluid, elegant and pleasant movements.
Integrate
Translate the learnings of every session into better movement and posture habits in your daily life. Transform your intentions into actions in an efficient way.
Enjoy
Move with freedom, leave the pain and the bad posture behind. Use all the potential of your aligned actions, thoughts and emotions to be better at what you enjoy doing.