Everyday wellbeing with Intelligent Movement®
Body and mind awareness with Ernesto Cortés
This series of Intelligent Movement® sessions aims to bring your attention to the practice of wellbeing and to the awakening of a greater inner sense of awareness. When you develop your body awareness, you stop accepting states of lesser wellbeing in all the areas of your life. So we will explore this awareness starting from the physical perspective, and along this journey we will discover how we can bring this learning to areas beyond the physical self.
Discover
Find new ways to relate to your body using conscious movement as a vehicle, to harmonize your actions with your thoughts and your emotions.
Connect
Learn how to move your body as a whole, not as isolated parts, using your skeleton as an efficient generator of fluid, elegant and pleasant movements.
Integrate
Translate the learnings of every session into better movement and posture habits in your daily life. Transform your intentions into actions in an efficient way.
Enjoy
Move with freedom, leave the pain and the bad posture behind. Use all the potential of your aligned actions, thoughts and emotions to be better at what you enjoy doing.
make a better use of all the possibilities of your body
Move with pleasure
The freedom of your body is often limited by chronic pain, bad posture habits and restrictions stemming from the use of inadequate furniture, body-damaging technology and other external factors. This series of lessons offer you a safe and respectful space to recover the use of your skeletal and muscular systems in all their capacity.
After many years with back pain and after going through countless therapies, I have found in Intelligent Movement a much more efective and loving way to recognize and restore my body. After every session I feel a deep sense of relaxation and comfort with my body, as if every part of it returned to its natural place.  Ernesto's guidance is clear and rhythmic, so his instructions are easy to follow and they help you identify the effects of every movement. This is undoubtedly a deep exercise of attention and dialogue with the body and its possibilities.
When and where?
You can choose to come to as many classes as you want, from one session to ten or more. This series of classes begins on Sunday, March 1st, 2020.

Cost of participation
Group classes
The group classes are limited to a maximum of 5 people to ensure the quality of attention that every student receives. Duration of the session: 1 hour.
1 session: 80 TL
3 sessions: 220 TL
5 sessions: 340 TL
7 sessions: 460 (includes access to private website with videos and audios)
10 sessions: 630 (includes access to private website with videos and audios)
Private sessions
The private classes are one-on-one, 1.5-hr sessions in which we do a combination of verbal instructions and hands-on work. They consist of gentle skeletal and muscular manipulation in a non-invasive and painless way to improve your posture, get rid of chronic pain, refine your actions and get relaxation.
1 session: 200 TL
3 sessions: 530 TL (includes private page with videos)
5 sessions: 800 TL (includes private page with videos)
For more details of these sessions, please see below.
Video classes
One of the aims of Intelligent Movement is to help us become aware of our habits and our pattens of posture and movement to transform them for our benefit. However, a one-hour lesson is only a small taste of the possibilities of evolution that this work offers, that is why we use short video-classes that you can do at home to go deeper into this process and to continue practicing your wellbeing.
Video classes are available for packages of 7 or more live classes.
About the individual sessions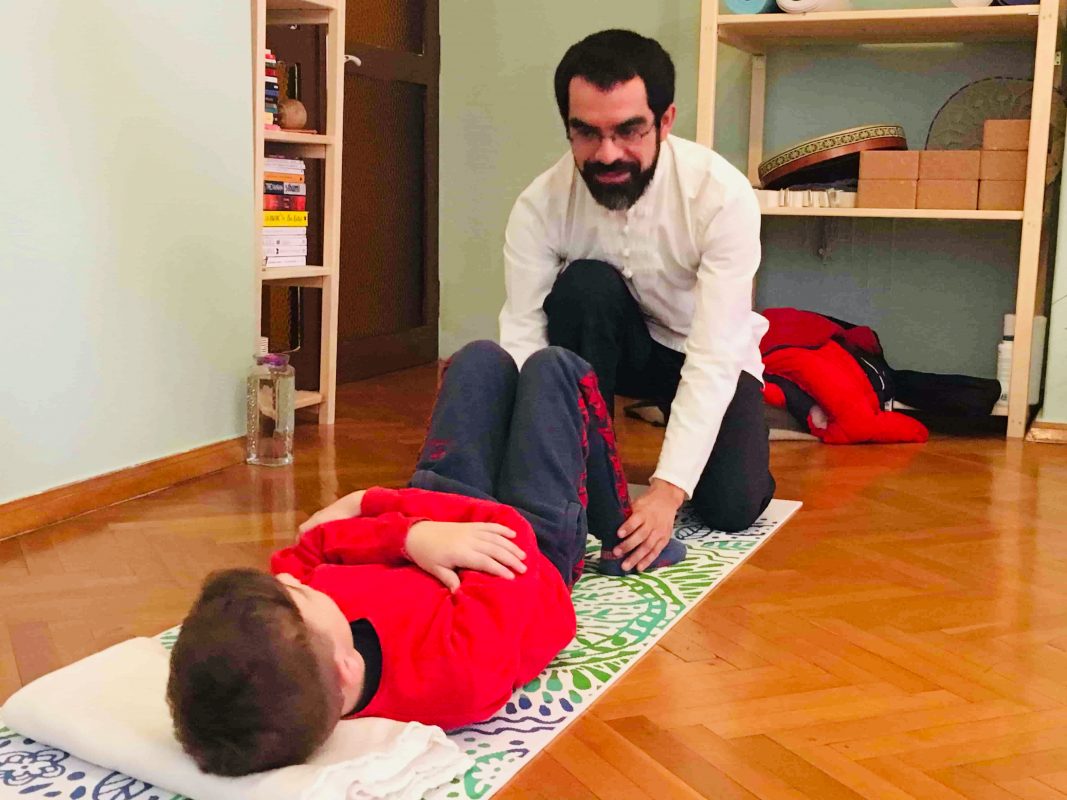 The private sessions are an opportunity to address specific needs or to improve issues related with your movement and posture, as well as the enhancement of your athletic or artistic performance abilities. These sessions include hands-on work in a respectful, non-invasive way. We do not do stretching, twisting or any painful actions.
These sessions are customized according to your needs and intentions, so that we can work directly on the function/body part/ ability that you want to improve.
About the teacher
Ernesto Cortés (México, 1979)
Ernesto Cortés is a Mexican musician and a certified Intelligent Movement® practitioner. In his classes, he aims to bring together elements of body-mind awareness, artistic self-discovery and spiritual integration. He is a certified leader of the Dances of Universal Peace movement and has led circles of dances and given workshops of Intelligent Movement® in the USA, Colombia, Ecuador, France, England, Germany, Iran and Turkey. Ernesto has also worked as a translator of Feldenkrais, Mindfulness and other body-mind techniques as well as spiritual practices for more than 12 years in different countries of the American continent. He is the first teacher of Intelligent Movement® in Turkey.
Contact and reservations
Please send us a message through whatsapp or leave us a dm on our social media if you want to reserve your spot or would like to have more information.
Isabela Tafur. 542 408 6181 (whatsapp). Facebook. Instagram.
Ernesto Cortés. +57 314 553 5398 (whatsapp). Facebook. Instagram. 
This series is designed for only 5 people in the group classes, so we suggest that you book your place today. A second group can be opened by demand.